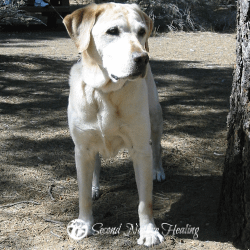 One of the most troubling chronic health issues in dogs is frequent or constant ear infections. Unfortunately our Ginger suffered with ear infections nearly her whole life. I wish I knew then what I know now. Ear infections are indicators of bigger issues.
​I remember taking Ginger to the vet often for her ears. As a yellow lab, it was apparently "common" to have ear infections. We didn't make any connections between ear infections and shedding. Later, when Ginger developed diabetes, we still didn't get it. Her ear infections had a lot to do with her immune system.
Treatment for Ginger's ear infections back then (around 1995) included using an earwash which contained potent antibacterial chemicals. Though I don't remember exactly what the product was, it reminded me of the banned acne medication, phisoHex, which contained hexachlorophene. Applying this liquid as a squirt in her ears sent her running around the yard, shaking her head, and rubbing her ears on the grass. In reflection, I can only imagine how much it stung. We thought we were helping, so we stayed with the protocol for a while. However, when we saw no improvement or resolution in her ears, we stopped. Though I can't be certain, I suspect that the chemical we used was banned for human use and only available for veterinary use. Isn't that often the case? As Ginger aged, we saw worsening signs of her immune system and her ears never improved.
Today's resources are different. Supporting the immune system with a raw diet and supplements is key to erasing or diminishing infections. In addition, more can be done to offer relief with natural remedies for ear infections without causing harm (stinging and potential toxicity). My favorite go-to products are essential oils. Here are a few suggestions and guidelines for using essential oils for dogs with ear infections:
Never drop oils into ear canal
Always use the highest quality pure essential oils, and don't compromise
Put selected oils to a cotton ball and apply into ear, at base and side of ear flap (again, avoid dripping oil into the ear canal)
Certain oils can be given orally or applied topically along the spine to increase health
Suggested oils:
1. Topical – can be diluted with a carrier oil such as coconut oil
Singles – Tea Tree, Copaiba, Lavender, Frankincense, Basil, Lemongrass, Rosemary, Eucalyptus, or Geranium
Blends – Purification, DiGize, Thieves, Raindrop series along spine
2. Ingestion – DiGize, ParaFree
I wish I had these essential oils for Ginger. However, I have them now!
Call me for specific guidelines for your pet's health.