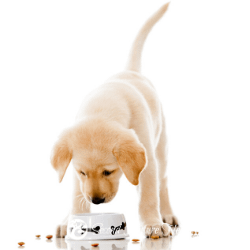 Highly Processed Foods Have Minimal Nutritional Value
AND MAY ACTUALLY CAUSE INFLAMMATION, DISEASE, ALLERGIES, AND REDUCE YOUR PET'S ABILITY TO FIGHT INFECTION
Effects of Poor Diet On Pet Health

Many health issues can be helped or even resolved with proper nutrition, detoxification and nutritional supplements for pets. Water, for example, is often ignored as an essential ingredient in an animal's diet. In addition, many commercial foods use plant-based proteins and carbohydrates as fillers. Not only are these ingredients not always helpful, they can, in fact, be harmful, especially to an animal that is already showing signs of illness or stress.
As a result, your pet may suffer from kidney failure, digestive issues, autoimmune diseases, cancer, skin conditions and allergies, to name a few . . . and most, if not all, issues may be alleviated with the proper diet.
How to Make a Raw Food Diet for Dogs
Your dog's natural diet should contain meat and vegetables – no grains, no potatoes, no rice. If your dog is dealing with canine cancer, the list also excludes sweet potatoes, no carrots, and no peas, all of which are too high in starch and sugar. Meat should also have about 10% organ meat added to it along with ground uncooked bones – soft bones like chicken and turkey backs and necks. Large femur bones from cows contain too much fluoride, which is not good for anyone!
Cats eat meat, no vegetables. Though it may seem that your cat won't touch meat, either cooked or raw, be patient. Commercial foods are high in salt and sugar which are addictive. It may take some time to convert your animal to a homemade diet.
Understanding What Your Pet Needs is My Specialty.
Animal Healing
Get help and learn about Natural Pet Health Alternatives.