Messages From Spirit Through Crystals
CRYSTAL MAGIC COURSE FOR DEVELOPING PSYCHIC AWARENESS
ENROLL NOW – Deposit Only ($50) Balance due at time of first in-person class on December 15.
ENROLL NOW – Pay in Full ($197)
WHAT IS CRYSTAL MAGIC?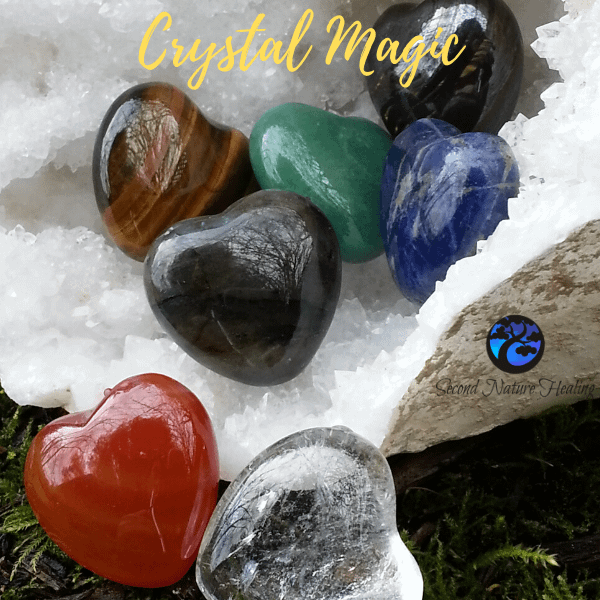 Crystal Magic
Develop Your Intuitive Skills While Working with Crystals
Crystal Magic is a mini course – a 4-week introduction to a much bigger and complete program that will be launching later this year that will take you deeper into your skills and abilities as an intuitive healer.
Crystal Magic provides a combination of learning styles (both live, in-person as well as online) you'll have the unique ability to access me personally throughout the course. By the completion of this course you'll have not only a better feel for developing your psychic abilities, but also an understanding of working with crystals. In addition you'll create a resource you make yourself that reflects your own psychic abilities when working with crystals – your Resource Book of Crystal Magic.
The one gift you can easily develop and enhance is your psychic ability – a natural gift you've always had, but perhaps forgot how to use. Now, in this easy-to-learn course I've developed called Crystal Magic, you have the opportunity to remember the ease and grace of connecting to Spirit – All That Is – through one of the most beautiful gifts of nature – crystals. I'm excited that you want to join in this co-creative process.
What is the co-creative process?
Because I've developed my psychic abilities over many years, tapping into my intuition has become pretty easy – effortless, in fact. In my personal experience I found working with crystals to be the most magical, not only because they're pretty, but also because they have deep, ancient wisdom to share. When we work together, I'll lead you through some exercises and give you information to help you do what I do – talk to crystals, and hear their messages. Your feedback is critical in this process so I can work with you to fine-tune how you can most easily succeed.
The focus of Crystal Magic is to help you develop an intuitive understanding of the Crystal Nation so you can enhance your connection to Spirit and develop a more highly intuitive practice. Having a greater intuitive awareness helps develop confidence, motivation, a flow of energy, and a greater ability to manifest.
If you've ever worked with crystals, you might have been curious about what they are or how to use them. Looking them up in a book or online might have helped a bit, but did you ever notice how one source often repeats – word-for-word – the meanings and benefits from another source? It doesn't take much thought to know that crystals have more to say than that, or even that the same crystal in a different situation, or held by a different person could offer another point-of-view.
You'll be working with various crystals, meditation techniques, and creating your personal catalog of crystals, siting their messages as you receive them from Spirit.
THE CRYSTAL MAGIC COURSE SCHEDULE AND DETAILS
Week 1 – A Three-Hour Live, In-Person Class OR Recorded, LIVE Webinar
You'll assess your psychic abilities and you'll learn to break through mental blocks that keep you from accessing them.
You'll be able to understand the physical formations of crystals (spirit in physical form) and get to know more about "who" they are and the messages they bring.
You'll work with actual crystals from my personal collection, and learn about resources available to you to start your own library of crystals.
Weeks 2 & 3 – Two Modules, and Two One-Hour Online Webinars
You'll practice the art of letting go of your analytical mind to access messages from spirit.
You'll begin to record your personal findings and messages from spirit.
Participate in two online class meetings to share and feel supported.
Week 4 – A Three-Hour Live, In-Person Class OR Recorded, LIVE Webinar
Personalize Your Library for various uses, wearing, using in your environment, using in your practice
Present Your Project, Your Resource Book of Crystal Magic
On top of the Live and Online lessons, you'll also get:
Checkpoint BONUS – Personal 1:1 Coaching session with Rosemary
Before moving forward to Week 4 you'll need to schedule a phone or zoom session with Rosemary. Work through some of the blocks you perceive or enhance your skills with additional support.
Email check-ins so you can ask me questions and send me feedback.
You'll receive a gift of a crystal collection to get you started.
Some extra crystals are available for purchase.
Finally, because this is a pilot course, you're a participant in a much bigger way. Your feedback and input are vital for the way the course takes shape – now and in the future. Crystal Magic represents a small part of what's to come, but sets the tone and foundation for learning essential skills to help you Master Your Craft.
YOU CAN BE PSYCHIC AND DEVELOP YOUR INTUITIVE ABILITIES EVEN IF YOU'RE JUST STARTING OUT.
The Crystal Magic Pilot Course is only $197, though it's definitely worth much more in the value you gain from developing your psychic abilities. Imagine – when I first started offering Reiki sessions, I doubted my OWN value – my own self-worth. I gave away a lot of free sessions (just for practice, I said) and when I did start charging, the fee was really low – about $30 for an hour. I was taking baby steps and it took me years to develop a highly intuitive practice that now helps set my work apart from the kind I was doing in those early days.
I loved my work deeply which drove my passion to continue to grow my abilities and my practice. I became a Master of My Craft through hard work, time and effort. The Crystal Magic Course will help begin the process for you with less effort and a lot more guidance and support – something I didn't have when I started my practice.
When I move forward with my more complete online course next year and open it up to the public, I'm planning on pricing it at $1497, but the price right now for my small pilot group with direct access to me is just $197.
A private, one-on-one healing or coaching session with me usually costs $237. You'll have time with me built into the course curriculum. Though other courses, books and resources are available, they may not actually support you in developing your signature practice with intuitive abilities. Learning from a Reiki master teacher, shaman, and Licensed Spiritual Healer means you'll get the unique integration of tools I've used personally in my practice for years – without having to wonder what your next steps should be, or wasting money or time on programs that just don't work for you.
You've probably worked with me before – as a student in one of my Reiki classes, Sensory Intuition Workshops, Sound healing Classes, or as a client, Your interest in healing, learning and growing, are developing. As you grow into your highest purpose, know that I'm here for you as I always have been as Reiki master, Shaman, and Lightworker.
CRYSTAL MAGIC MINI-COURSE ~ $197
What People Are Saying
"Rosemary was wonderful! From the moment she opened the door to welcome me, it was an easy connection. She matched the pace of the class to our needs. The second class really pulled it all together. At the end of the program I felt very confident. Thank you!" D.K.
"This experience was so well taught! I feel confident enough to bring this into the world myself after Rosemary's teachings. Rosemary is an excellent teacher with very patient energy and a great deal of experience. Wonderful!" L.B.
"Rosemary is a professional guiding spirit who clearly understands energy work and helps guide you through the work." A.C.
"Today's experiences were beneficial beyond my expectations. I had no idea this new journey would open up to me what I had buried so deeply I was no longer aware of it. I know this is but a part of my journey. Blessings and much gratitude to you, Rosemary." E.A.
You'll Be So Pleased!
You and I can only IMAGINE what Crystal Magic will be worth to you in the long run. As with any course, doing the work – the classes and exercises – help guarantees your success. In fact, I guarantee that if you show up and give 100% of your efforts, attend the classes, do the exercises, and experience all this course has to offer, you'll begin to break through and develop your intuitive abilities. In fact, if after attending the first in-person class, you don't agree – if you don't perceive any benefit at all – I'll refund your investment for the course.
What's Holding You Back?
"I don't have enough time." ~ Other than the two in-person classes, each of the other two times we meet are online and will be recorded. In fact, I'm recording the in-person classes, too, so you can access them at any time. Crystal Magic can be self-paced so you can participate on your own schedule.
"I don't have enough money." ~ That's the beauty of a pilot program – the cost is so low compared to the value you receive. Remember, my course also includes a private 1:1 coaching session. That alone nearly doubles the value of the course. Later, the price will be higher, so now might be the perfect opportunity to invest. If you need a payment plan, we can work it out.
"It won't work for me." ~ If you really believe that, you wouldn't be looking for a way to breakthrough your blocks. Part of you knows that you can do this. If you do the course wholeheartedly, you'll see it work for you. If not, use my money back guarantee.
CLAIM YOUR SPOT IN CLASS
Space is limited to just a few participants so I can offer individual attention, and I may not be offering this exact class again. If you're ready to get started with developing your intuitive skills through Crystal Magic email me to claim your spot in the next open class.