Finally! Here's a community for empaths and sensitives who are experiencing spiritual awakening, seek growth toward spiritual knowing and practice, and enrichment for healing skills and intuitive abilities.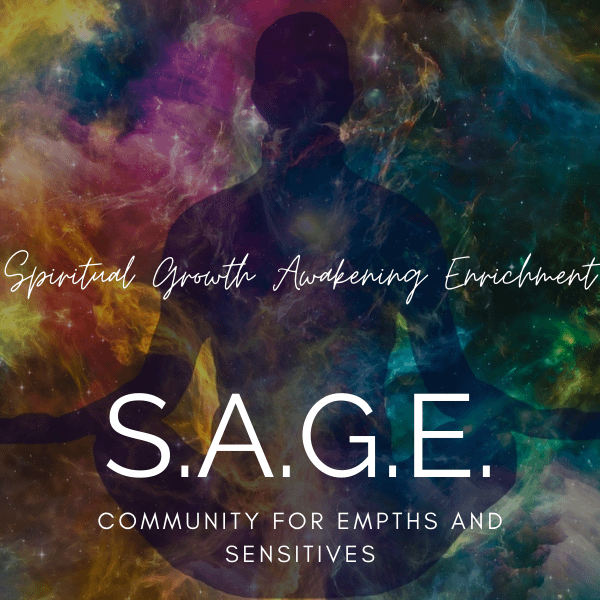 Rosemary is the consummate teacher and mentor. Many teachers just teach, Rosemary embodies her craft and shares it from the depths of her being. She leads and teaches by example, and helps you become the best version of you. You will end up doing and being the best version of yourself because she doesn't settle for any less than that.
As a healer, Shaman, intuitive, and Reiki Master (plus many other credentials) she has impeccable ethics . It's safe to trust her with your deepest self, knowing that you are in caring and loving hands. I've been her student for a long time, and will continue as long as there is breath in my body.
The SAGE Spiritual Community for Empaths and Sensitives
You've been seeking others who are like you – sensitive to energies around you, events in the world, and dreams you experience – even while awake! You want to develop your intuitive abilities, feel more grounded, learn new skills, and be more present in your life. You want to feel empowered to heal.
Spiritual Consultation Bonus
When you join the Spiritual Awakening Growth Enrichment Community on Facebook you'll be eligible for a complementary 30 minute spiritual coaching and consultation session . . . and other bonuses, like my free Guide For Spiritual Awakening Growth Enrichment.
Ancient Wisdom, Natural Healing Practices, Training and Workshops for Empaths and Sensitives.
This is S.A.G.E. Community. Spiritual enrichment and training is available. I invite you to connect and interact with other members, join us for podcasts, and ask for guidance on your journey.
Questions? Please ask!