Power to Heal ~ Life is Meant to Be Good
There's no time to waste in a health crisis . . . yet this is where most folks fail to optimize the greatest healing outcome. Cancer recovery? Trauma? Injury? Surgery? Depression? Anxiety? Or maybe you just don't feel good. It's time for Optimal Healing and alternative healing options. Which natural alternatives can support you in your healing and recovery?
Optimal Healing ~ Your Guide to Total Wellness
Empower yourself with natural alternatives, educate yourself on how to support the immune system, and work WITH the body to promote healing. It all matters.
When you get a cancer diagnosis, what could be worse?

– Not knowing.
– Making choices out of FEAR instead of EMPOWERMENT
– Feeling helpless and hopeless.
– Worrying about the future.
– Adjusting to the disease journey as opposed to the healing journey.
Years ago when my mother first discovered she had breast cancer, I was newly married and living in South Korea. I can't say I knew what my mother was thinking when she filled a suitcase full of tomatoes from the garden and went off to visit my brother . . . maybe loving and enjoying life first to fit in all the good stuff – literally!
By the time I received a letter from her to tell me about her diagnosis, she'd already had surgery and was set up for radiation appointments before starting chemo. It was that fast! I arrived back home as quickly as I could, only to find her at the hospital in a tiny room wearing a small hospital gown, waiting for her next treatment.
That was her choice.
It was the only treatment option for her at the time.
It would definitely NOT be my choice. I KNOW what I'd do.
But I got to wondering, does everyone know what they'd do if cancer were diagnosed? Is there an assumption that you're going to be healthy your entire life?
Oh, but IF you or someone you loved were diagnosed with cancer, what would you do?
Throughout the series you'll learn:
– That do no harm is a powerful message
– That the body already knows how to heal
– That you have natural healing choices most doctors don't use, promote, or even know about
The Optimal Healing Course is filled with daily practices to help you feel EMPOWERED in your health and healing process.
Beliefs and Optimal Healing
Vibrational Healing
Medicinal Aromatherapy
Sound Healing
Crystal Medicine
Alignment to Source
Shamanic Tools for Healing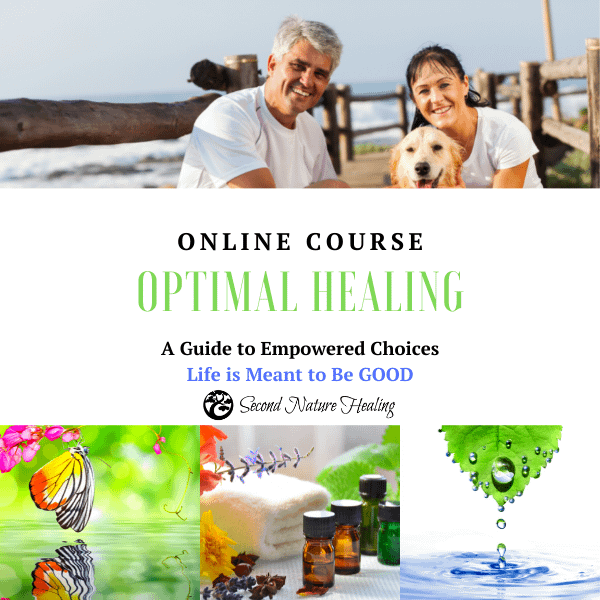 Highlights
Energy Healing and Shamanic Principles
Vibrational Medicine
Products That Work to Support Healing and Recovery
How to Create a Stronger Foundation
and more!
Special Introductory Offer for Optimal Healing
Get a sneak peek. Pre-register and receive your free download:
Purification as a Foundation for Optimal Health
Optimal Health Course
Pre-register for the Optimal Health online course. Get your free download - Purification as a Foundation for Optimal Health