Thanks for your interest in Fundamental Tuning Fork sound healing tools. The tuning forks featured here are a set. I consider them FUNDAMENTAL to healing and a complement to all other sets.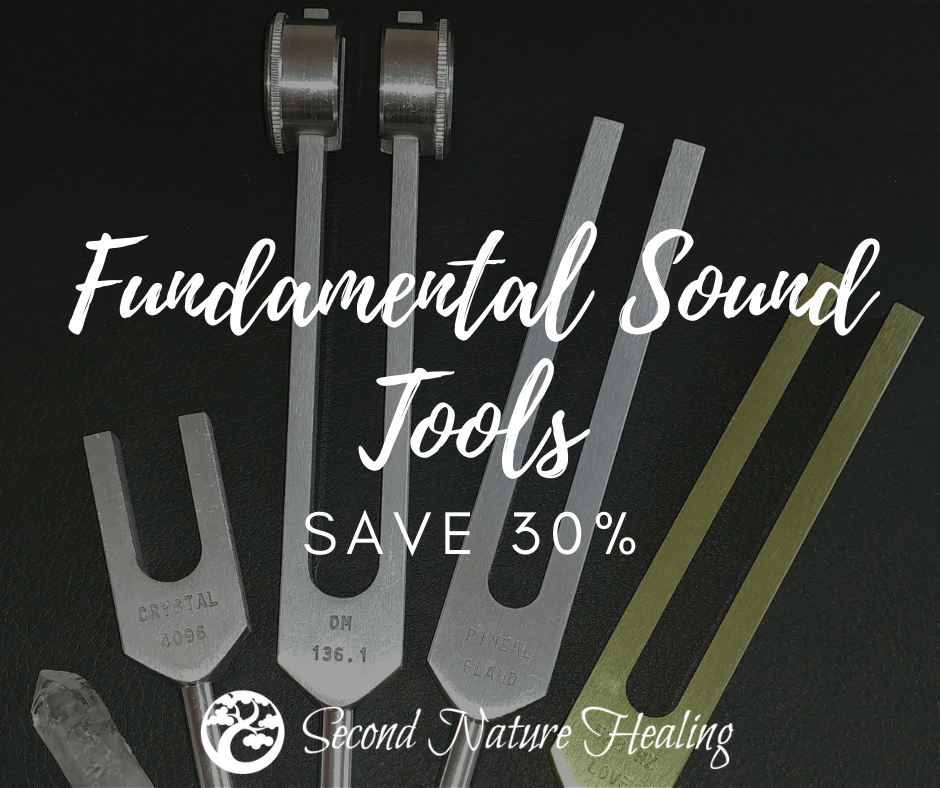 Fundamental Tuning Fork Sound Therapy Tools
Set of four is $133
ONLY TWO SETS LEFT
See Details below.
They are new (only used as demo at a retreat where I presented). You might say they've been warmed up a bit in loving hands.
Each fork has a lovely blue velvet pouch.
Purchase a set of 4 tuning forks, and get either a quartz point or a crystal heart as a bonus.
I'm offering this set for 30% off – a significant savings!
Set of Four $190 now $133.
The Set of Four Fundamental Tuning Forks
includes:
An unweighted crystal tuner 4096 Hz
A weighted OM tuner 136.1 Hz
An unweighted Pineal tuner (proprietary)
An unweighted Love tuner 528 Hz (tinted green)
My supply is limited, so choose early. Several sets have already been claimed.
Cash or check please. Arrange for pickup at my house, or add shipping to your order. I'll use a standard flat rate box and at this time I'm not sure which size will work. Pouches are bulky, so I may need to go up to the medium size which I believe is about $15.
Why am I selling these Fundamental Sound Therapy Tools?
These amazing tuners were selected to be an integral part of my Wounded Healer protocol (the one I presented in Sedona a couple of years ago.) They still are, but I'm restructuring how I offer tuning forks. This also frees up my custom Wounded Healer tuning forks (Chiron and Spirit) to be sold separately – a request from several of my sound students!
Furthermore, I'm unifying the look of all my forks with a single brand. These are the highest quality therapeutic, medical grade forks made. They come from Medivibe and are accurate to +/- .25% Hz.
I'll be offering a custom Fundamental set on my website soon, but it won't match the price of this great deal. Oh, and these forks have become so popular that my sister site is sold out for another 4 to 6 weeks!
If demand exceeds my supply, you'll be first in line to select my newly rebranded Fundamental set.
Contact me NOW to reserve and order your set. Or reach out to me on Facebook.